Clinically Proven Effective
A clinical study proves it: Strianix™ Intensive Stretch Mark Complex dramatically reduces the visibility of stretch marks. Period. It is the most powerful topical solution for treating stretch marks on the market. It is 100% safe with absolutely no dangerous side effects. We guarantee it will work for you – if used as directed results are normally observed in 4 to 8 weeks.
That's right, 100% of participants saw visual stretch mark improvement using Strianix™ in a clinical study investigation.
What is a Clinical Study?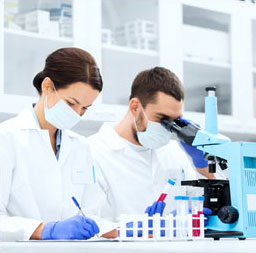 A clinical study is a research process designed to discover if a medical strategy or treatment is safe and effective. These studies often compare which medical approaches/treatments work best for certain afflictions or similar groups of people. Clinical studies are conducted by certified independent laboratories so you can trust their results are not influenced by c onflicts-of-interest. Participants in a clinical study will receive specific interventions according to the research plan or protocol created by the investigators (in our case it was the Strianix™ formula). Strianix™ Intensive Stretch Mark Complex was investigated by a thorough and rigorous 3rd party clinical study.
The Methods Used to Study Strianix™
Photographic Evidence
Participant's stretch marks were evaluated, graded and separately photographed, by a scientific photographer, prior to Strianix™ being applied. It was then applied in accordance with the intended package directions over an 8 week regimen. A modified and expanded 10-point monadic scaling method allowed for the quantification and measurements of efficacy as a percentage of stretch mark reduction for each subject. The photographs of each participant's stretch mark region were placed side-by-side to compare the pre-treated area with the post-treated area. The photographs provided a visual record of the efficacy of Strianix™ Intensive Stretch Mark Complex.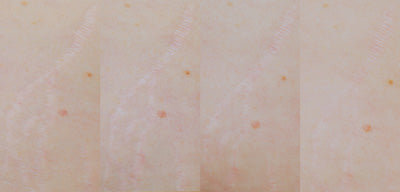 Surface Evaluation of Living Skin (SELS) – Visioscan
A Visioscan was used; it takes a direct image of the living skin using a measuring head containing a CCD-camera and two metal halogen lamps positioned opposite each other in order to ensure even illumination of the measuring field on the skin. The grey level distribution of the pixels in the image correspond to different phenomena (white pixels represent desquamation on the skin, dark pixels represent lines and wrinkles). Through special software (SELS – Surface Evaluation of Living Skin) the parameter of the stretch mark region (SEw) was evaluated in relative units for the deepest stretch marks observed in the afflicted areas of the body.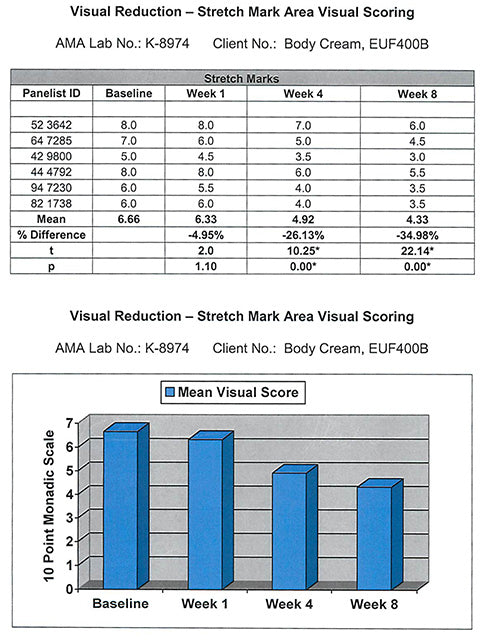 Skin Elasticity – Cutometer
A Cutometer SEM 575 was used to measure skin viscoelastic properties of the test sites. The measuring principle is based on a suction method. Skin is drawn into a calibrated aperture of the probe by negative pressure where skin penetration depth is determined by a non-contact optical measuring system.
Electroconductivity – Novameter
A Nova Dermal Phase Meter was used to measure skin surface impedance to determine the electroconductivity of the stretch marks treatment areas, which provides a relative measure of retained water content of the skin.
Self Reporting
Participants were also asked to keep a daily log recording the time of each application of Strianix™, along with any subjective comments regarding product use.
The Results
After 4 and 8 weeks participants using Strianix™ had significantly reduced stretch marks by all measures, including self reporting from the participants themselves. In fact 100% of participants saw improvement in the appearance of their stretch marks. The clinical study proved that using Strianix™ works!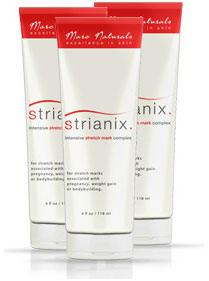 ✓
Reduces the Appearance of Stretch Marks
✓
Restores and Moisturizes Skin
✓
Makes Skin More Radiant, Firm and Healthy Looking
✓
Applies Easily with Fingers
✓
Helps Clear Dark Streaks
✓
Natural, Safe and Effective
✓
Natural, Safe and Effective
✓
Guaranteed to Work within 60 Days or Your Money Back.
Buy 1 Bottle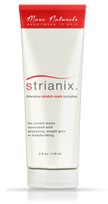 1 Bottle – One Month Supply
Most Popular
Buy 2, Get 1 Free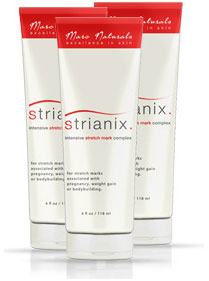 3 Bottles – Three Month Supply
$49.95/bottle – Save $49.95
Buy 3, Get 2 Free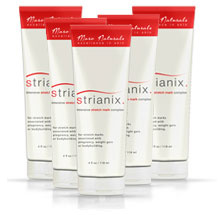 5 Bottles – Five Month Supply
$49.95/bottle – Save $99.90!